Description
Details
HP Velotechnik Trikes and Bikes are custom made for you in Germany. As Canada's only HP Velotechnik Premium Dealer, we have at least 5 different HP eBikes in stock for test ride! We can help you choose and configure the perfect HP Velotechnik for your needs. Some models have Special Editions available - contact us for details.
The "Starting At" price is for a custom trike with a basic configuration with a Shimano STEPS Motor and Battery. We can also order an HP Velotechnik without a motor and battery for you. Please contact us for assistance in configurating a custom made trike or bike.
Motor options: we can configure your trike with mid-drive motors from Shimano: the STEPS E6100, STEPS EP8 or STEPS EP801. We can also configure it with a hub motor from Neo-Drives.
Drivetrain options: in addition to a traditional drivetrain with cassette and derailluer, we can also configure your HP Velotechnik trike with an internal geared hub such as a Shimano Nexus 8 Speed, Rohloff 14 Speed, or even an Enviolo Automatiq! The Enviolo Automatic hub offers stepless, fully automatic shifting. No gears - just pedal and go. You choose your preferred pedalling speed (cadence) and the Eniolo will constantly adjust the internal gear ratio to maintain your cadence - no matter your speed riding conditions. When head uphill it automatically and smoothly adjusts to lower gear ratio, and it will do the opposite when you head down hill . It offers a 380% gear ratio.
Mountain-Triking at Its Best!
Scorpion fs 26 Enduro: Automotive Chassis Suspension for an Impressive Off-Road Experience
Think Green: Anyone who has previously considered recumbent trikes to be road speedsters only for their extraordinary ergonomics and aerodynamic advantages will have to do some rethinking: With the Scorpion fs 26 Enduro, HP Velotechnik sends trike fans right onto the trails for joyous off-road tours. Mighty MTB studded tires and automotive chassis technology combine to create an extraordinary exciting ride.
The stunning Scorpion fs 26 Enduro trike guarantees full-suspension off-road pleasures on tree-root lined trails, on downhill trails, and in bike parks – in other words: mountain-triking at its best! Since its first presentation, the Scorpion fs 26 Enduro has not only held up the endorphin at high levels for many off-road fans. The stylish trike also convinced the jury at the Eurobike fair in Friedrichshafen in late August 2013: the jurors awarded the prestigious Eurobike Award to HP Velotechnik for their eye-catching Enduro trike. The Award honors the "particularly innovative design and outstanding product quality."
The Full Suspension Chassis of the Scorpion fs 26 Enduro
From the very first glance at the off-road recumbent trike Scorpion fs 26 Enduro, you begin to feel your heart beating. The bright green full suspension frame with sky blue accents and the powerful studded 26 inch rear wheel state very clearly: This off-road machine is eager for some serious dirt rides!
Chassis technology derived from automotive engineering: HP Velotechnik's independent wheel suspension with McPherson struts and stabilizer system on the wishbones delivers optimum riding dynamics. Whether you are riding fast fire roads, bumpy root gardens or challenging bridleways: the well-engineered and trail-proven full suspension chassis guarantees a safe and stable handling you can rely on.
The entire chassis is designed using our No Squat suspension concept and transmits all of your drive energy to the road without any loss of power. In return, you enjoy complete comfort so that you can lean back and relax while dynamically accelerating, even on rocky roads.
With the Scorpion fs 26, you have the best equipment for exhilarating trike tours ready to go. The advanced steering geometry (ASG) system enables you to control the trike smoothly and precisely. You benefit from a small turning circle even though the big rear wheel demands for more space in the chassis. The long wheelbase of your Scorpion fs 26 Enduro gives you a noticeable plus in comfort, safety, and riding pleasure.
Your advantage: Precise cornering control and increased safety when braking!
Through the electric motor support of up to 32 km/h, it's not only that steep climbs become less daunting. With the Scorpion fs 26 Enduro as an e-trike, it's easy to take your partner on the trails, even if differences in exercise level or riding experience were an issue before. Moreover, the exciting world of mountain biking becomes accessible to a much wider audience: people with special needs, veterans or injured people can now experience exciting outdoor activities off-road from the comfortable seat of HP Velotechnik's stable Enduro trike and get some extra support from the powerful motor whenever they want to! For extra long trips, the second battery option from HP Velotechnik instantly doubles the maximum range.
Even when you are off-road: From now on you no longer have to miss out on the comfortable seating position and safe road holding of our tadpole trikes!
Unfolds Pure Driving Pleasure
Comfortable Off-Road and in Transport
With the Scorpion fs 26, HP Velotechnik presented its first full-suspension speed trike with a smooth-running 26-inch rear wheel, that can be folded flat for transport without the use of tools. With the Scorpion fs 26 Enduro, the expert designers at trike specialist HP Velotechnik added another dimension: superb ride comfort inspired by automotive engineering to cope with all the obstacles that off-road riding can offer.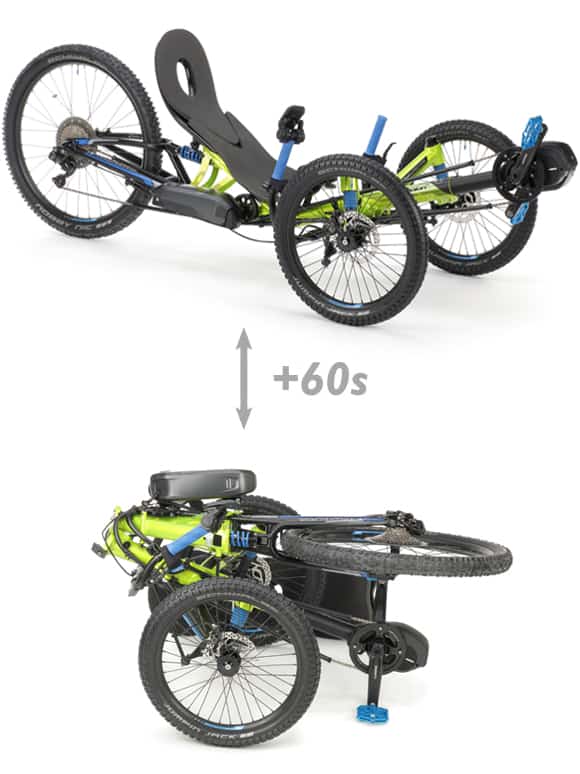 All the outstanding features of the Scorpion series can be found on the Scorpion fs 26 Enduro as well: in just a few simple steps, it only takes a minute for you to fold up your Scorpion fs 26 Enduro into a space-saving package with dimensions of 123 × 83 × 62 cm (49 x 33 x 25″). If you remove the wheels as well, the dimensions reduce even further to a compact 93 × 74 × 54 cm (37 x 29 x 22″). Even with the optional luggage rack attached, the offroad recumbent mountain trike can still be folded up without removing the wheels. And the chain? The chain rotates around its axis and otherwise reliably remains where it should be, guided by the flexible chain guard tubes.
The best part: When you unfold the trike, HP Velotechnik's unique, self-locking folding hinge enables you to turn your excited anticipation into pure riding pleasure quickly!
Specifications and Technical Data
The outstanding ride of our off-road trike Scorpion 26 Enduro is the result of thoroughly engineered performance technology with precise technical specifications. The detailed figures can be found here in the technical data sheet – from the dimensions to the payload, from the seat height to the appropriate rider size. Don't you think green is beautiful? All right, here we'll show you which custom colors you can choose for your Scorpion fs 26 Enduro.
Seat:
Seat hight BodyLink: 29 cm (12")
Seat height ErgoMesh: 32 cm (13")
Seat angle: 41–49° adjustable
Wheels & Tires:
Wheel size (front wheel): 20" (ISO 406)
Wheel size (rear wheel): 26" (ISO 559)
Max. tire width: 5 cm (2")
Vehicle Measurements:
Bottom bracket height: 40–45 cm (16–18")
Ground clearance: 12 cm (5", statically compressed)
Wheelbase: 128 cm (51")
Track width: 78 cm (31")
Width: 83 cm (33")
Length: 187–231 cm (74–91")
Turning circle: 5.51 m (18') outward
Faltmaß: 123 × 83 × 62 cm Folded size: 123 × 83 × 62 cm (49 x 33 x 25")
Dismantled size: 93 × 74 × 54 cm (37 x 29 x 22")
Misc:
Suspension travel: front 6 cm (2.4") / rear 8 cm (3.1")
Weight: from 20.5 kg (45 lbs) incl. pedals
Payload: max.110 kg (242 lbs) off-road, max 309 lbs on-road
Frame material: Aluminum 7005 T6 heat treated
Swing arm bearing: maintenance-free
Rider height: ca. 1.62 – 2.00 m (5'4" – 6'7")
Specifications
Specifications
| | |
| --- | --- |
| Brand | HP Velotechnik |
| Motor Manufacturer | Shimano |
| Motor Model | EP8 |
| Battery Size | 625Wh |
Reviews
Tags
Not What You Are Looking For? View other products in this category: