Description
Details
Velo de Ville bikes are custom made for Citrus Cycles in Germany. Find out more here about why we love the German engineering, quality and attention to detail from a company that cares about community and sustainability.
As Velo de Ville are custom made to our specifications in Germany, we only have a limited quantity available. Each bike is unique, and once it is sold, it is gone, so feel free to contact us to put a hold on your ideal eBike today.
Velo de Ville AEB 890 Video Preview:
Preview of the VDV AEB 890 and AEB 990 recorded at Eurobike - we will record a full in-depth review including a ride test once the bikes arrive from Germany:
Velo de Ville AEB 890
Looking for an Velo de Ville AEB with a higher torque motor, higher capacity battery and Gates Carbon Belt? Check out the AEB 990 here.
The AEB 890 Smart combines the features of the Bosch Smart System with the Performance Motor to create an all-round bike suitable for everyday use. No matter what you want to explore, our Allround series e-bikes are perfectly equipped for it. The high-quality AEB 890 Smart masters tours in the city as well as excursions on dirt or gravel roads reliable.
The reliable Bosch Smart System and smooth, easy to use Nexus 5 make the AEB 890 reliable and easy to ride with very little maintenance.
Velo de Ville AEB 890 Specifications:
| | |
| --- | --- |
| Motor | Bosch Performance Line Smart (75Nm) |
| Shifting System | Shimano Nexus 5 |
| Battery | 500Wh PowerTube Smart |
| Display | Intuvia 100 |
| Charger | Bosch 4A Smart |
| Fork | RST Volant Tapered |
| Seat Post | Ergotec Glide Suspension |
| Saddle | Selle Royale Nuvola Gel Trekking or Loire City Gel |
| Tires | Schwalbe Marathon GT 365 28 x 2" |
| Carrier | VDV Tour Pro Racktime |
| Front Light | B&M MYC 50 Lux TS |
| Back Light | Axa Juno |
| Stem | Ergotec Octopus 50 Ahead: Length: 90mm / 110mm; Adj.: 0°-60° |
| Handlebar | Stuttgarter: Length: 500 mm; Rise 46mm; Backsweep 52 Degrees |
| Bell | Sport |
| Brakes | Shimano Hydraulic Disc MT200 |
| Grips | Ergon GP10 Ergonomic |
| Mudguards | SKS Plastic |
| Chain guard | Hesling Chain Guard Closed |
| Sidestand | Hebie, rear wheel, adjustable |
| Pedals | Industrial ball bearing |
| Frame Lock | Yes, keyed alike to battery |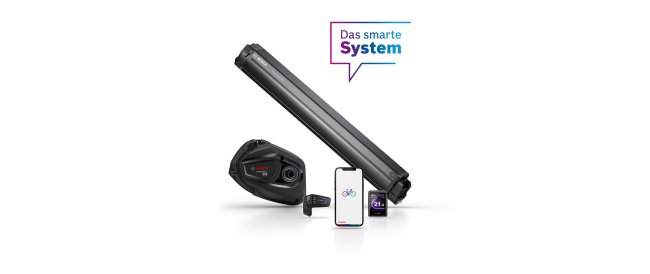 Bosch Smart System
WIth the Smart System, the components of the drive are optimally linked. The display, control unit, various batteries and motors allow you to customize your riding experience with the Bosch Flow app. With over-the-air- updates, you are always up to date.
Shimano Nexus 5
Thanks to its closed design, the gear hub is a reliable companion in all weathers. Your shifting system covers both everyday riding and more sporty rides.
The internal lubrication ensures that the gears function reliably and take you to your destination. The shifting system is known for its low maintenance, so you can concentrate even more on touring on bike.
The Nexus 5 hub gear was specially developed for eBikes and supports power Bosch Performance Line 75Nm. It offers a 263% gear ratio and the ability to shift while stopped or pedalling. Very little maintenance is required, and your chain will last substantially longer than in a regular drive train. It also means you don't have to worry about adjustments or your chain falling off!

SCHWALBE MARATHON GT 365 50-622
The patented, 5-mm strong SmartGuard insert leaves all rival replica products in the shade when it comes to roll resistance. Schwalbe also uses part-recycled rubber from old latex products in the SmartGuard. These tyres run for far longer without eyesore cracks when facing issues such as low air pressure, which would quickly overload most other tyres. The Marathon Plus is the best choice for Pedelecs (E-25), thanks to its exceptional qualities. The most popular sizes come tested and approved for fast Pedelecs up to 50km/h. (E-50).
AXA JUNO
Compact design meets good visibility. Thanks to the LED technology and the wide reflector, you will be seen from a distance of 500m. The side lighting provides additional safety in the dark.
BUSCH & MÜLLER MYC 50 LUX
In its compact format, the MYC headlight provides good illumination of the road. With a luminosity of 50 lux, it evenly and brightly illuminates the immediate area in front of the bike. An additional plus point: the light strips on the side make you and your bike clearly visible in traffic.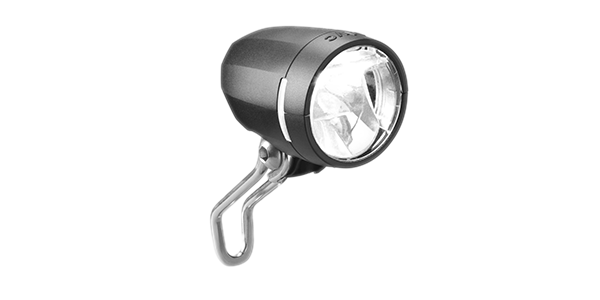 SHIMANO DISC MT200
This disc brake impresses with solid workmanship and high-quality materials. It benefits from the technical expertise of Shimano. The One-Way-Bleeding bleeding system allows easy maintenance, the grip width of 75 mm is also suitable for smaller hands. Its versatile design suits the numerous bike types and is always a good and inexpensive alternative.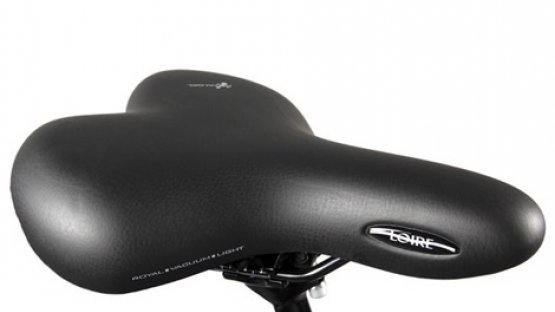 SELLE ROYAL LOIRE CITY GEL
A softly padded city saddle with an ergonomic shape. It is perfect for comfortable, upright riding positions.
SELLE ROYAL NUVOLA
When seated at 60 degrees, the wider saddle distributes weight and the pressure exerted by sitting bones rearwards over a wide area. The Nuvola Skingel was especially designed for this moderate seating position.
ERGOTEC GLIDE
The Ergotec Glide offers a hardness adjustment as well as adjustable side play. This makes for a comfortable ride. The steel spring suspension supports body weight from 70 up to 120 kg.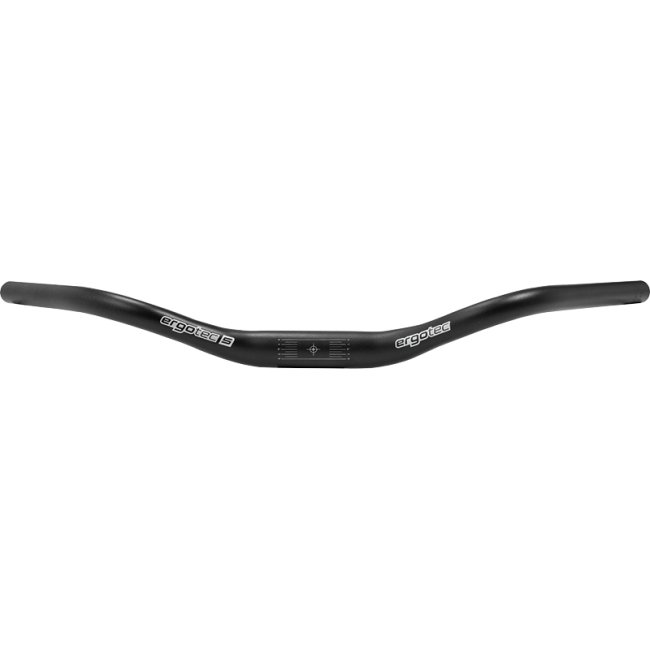 STUTTGARTER
With the Stuttgart handlebar you get the most upright seating position. This handlebar builds up high and has a clear bend that is aimed in the direction of a Dutch bike, but is by no means unsafe to ride on a pedelec.
Bosch Smart System Details
The new Bosch Performance Line Smart System motor offers 75Nm of torque but is almost silent. The drive unit supports you powerfully but naturally – making being active fun. Stay in the flow and enjoy the ride to the fullest thanks to special riding modes like Auto mode.
Performance Line Motor: Powerful, but natural
The versatile and virtually silent Performance Line is now also part of the smart system. Take advantage, stay active and keep exploring your surroundings. With the eBike Flow app, you can keep your eBike up-to-date with over-the-air updates at all times: Use the new Auto Mode riding mode and enjoy the ride. Despite powerful support, the drive unit offers a natural riding feel.
New Tour+ riding mode
The new Auto mode reacts to a decrease in speed, due e.g. to climbs and sudden headwinds, and compensates with the appropriate support.
Quiet drive unit
The sophisticated gear concept of the Performance Line enables an almost silent ride.
Multi-sensor concept
The support adapts to your riding style and is optimal for sporty trekking tours.
Over-the-air updates
The Performance Line is fully networked in the smart system and remains up-to-date even after purchase.
Intuvia 100: The easy-to-understand everyday companion
With Intuvia 100, you get a display that's intuitive to use and ready to go. The display is clearly designed thanks to the large font, and together with the shift recommendation gives you more safety and comfort while riding. Operation is intuitive via the control unit - so your hands remain safely on the handlebar.
Important ride data
Intuvia 100 provides data on distance, trip duration, range, speed, time and riding mode.
Exact battery status
Intuvia 100 shows you accurate info about the charge level of the eBike battery.
Helpful shift recommendation
Available soon: get guidance on when to shift gears - and increase your range.
Info about theft protection
Intuvia 100 shows you whether eBike Lock is active and motor support is disabled.
Your smart display for sporty rides
Kiox 300 is the display for the smart system and the intelligent, robust companion for sporty rides. It can be operated intuitively via the LED Remote or the Mini Remote, is compact and offers a splash-proof and dust-proof color display that's easy to read. Fully networked in the smart system, it continuously receives new functions through the eBike Flow app.
Your fitness data
All your ride and fitness data – altitude, slope, power, cadence and calorie display – is available at a glance with Kiox 300.
Ergonomic operation
Operate Kiox 300 with the LED Remote or the minimalist Mini Remote.
Helpful support
Activate the smart Walk Assist including Hill Hold – Kiox 300 gives you helpful instructions.
Constant new features
Your smart system eBike will continuously be getting new features over-the-air.
SmartPhone Grip: Your smartphone on the handlebar
Simply turn your smartphone into an eBike display: Attach the SmartphoneGrip to the handlebar, insert your smartphone, and open the eBike Flow app. While your smartphone is wirelessly charging via the SmartphoneGrip, the eBike Flow app reliably navigates you to your destination. It shows you all the important ride data – from speed and eBike battery status to arrival time.
At a glance
Ride data via the Flow app
The Ride screen shows your speed, the charge level of the eBike battery, and the remaining range.
Ergonomic control
Operate the eBike Flow app comfortably via the LED Remote or Mini Remote, while both hands remain on the handlebar.
Secure
On asphalt roads or paved paths, SmartphoneGrip holds your smartphone securely on the handlebar.
Full smartphone rechargeable battery
With the SmartphoneGrip you charge your smartphone as you ride – either wirelessly or wired.
AEB 890 Geometry:
45 cm:
50 cm:
55 cm:
Specifications
Specifications
| | |
| --- | --- |
| Brand | Velo de Ville |
| Motor Manufacturer | Bosch |
| Motor Model | Performance Line (Smart System) |
| Battery Size | 500WH |
Reviews
Tags
Not What You Are Looking For? View other products in this category: