Description
Details
Velo de Ville bikes are custom made for Citrus Cycles in Germany. Find out more here about why we love the German engineering, quality and attention to detail from a company that cares about community and sustainability.
As Velo de Ville are custom made to our specifications in Germany, we only have a limited quantity available. Each bike is unique, and once it is sold, it is gone, so feel free to contact us to put a hold on your ideal eBike today.
Velo de Ville SEB 990 Video Preview:
Preview of the VDV SEB 890 and SEB 990 recorded at Eurobike - we will record a full in-depth review including a ride test once the bikes arrive from Germany:
Velo de Ville SEB 990
Bosch's most powerful motor, a sporty seating position and a sleek design are the hallmarks of the SEB series. Equipped with the Bosch Smart System CX Drive, the SEB 990 Smart comes with a fully connected drive system and a high level of comfort thanks to the wide tires.
The Velo de Ville SEB 990 is the perfect "everything" bike that will allow you to ride anywhere you wish - safely and comfortably. With an upright, relaxed riding position, the SEB 990 is enjoyable to ride, while the wide tires and suspension fork give you traction and stability to ride anywhere you want to go! City streets or rough trails, and everything in between, the SEB 990 will take you there.
The reliable Bosch Smart System, a Gates Carbon Belt and the smooth, easy to use Enviolo CVT make the SEB 990 reliable and easy to ride with very little maintenance.
In the SUV series, the focus is on versatility.
The SEB 990 is available both as a step-thru (Wave) with a 625Wh battery and a low-step "Smart Range" model with a 750Wh battery.
Velo de Ville SEB 990 Specifications:
| | |
| --- | --- |
| Component | Specification |
| Motor | Bosch Performance Line CX Smart (85 Nm) |
| Shifting System | Enviolo TR Continuously Variable |
| Chain or belt | Gates Carbon CDX Belt |
| Battery | Bosch 625 Wh PowerTube Smart or 750Wh PowerTube with Smart Range |
| Display | Smartphone Grip |
| Charger | 4A |
| Fork | RST Volant Tapered |
| Seat Post | Ergotec Glide Suspension |
| Saddle | Selle Royale Lookin Moderate |
| Tires | Johnny Watts 27.5 x 2.4, Reflective Sidewall, Puncture Resistant |
| Carrier | VDV Tour Pro Racktime |
| Front Light | B&M IQ-X 150 Lux TS (MYC 50 Lux TS with 750Wh battery) |
| Back Light | B&M Toplight Brake Light |
| Stem | Ergotec Octopus 50 Ahead: Length: 90mm / 110mm; Adj.: 0°-60° |
| Handlebar | Trekking: Length: 620mm; Rise 16mm; Backsweep 30° |
| Bell | Sport |
| Brakes | Shimano Hydraulic Disc MT200 |
| Grips | Ergon GP10 Ergonomic |
| Mudguards | SKS Plastic |
| Chain guard | Hesling plastic |
| Sidestand | Hebie, back wheel |
| Pedals | Aluminum, anti-slip |
| Frame Lock | Yes, keyed alike to the battery |

Bosch Smart System
WIth the Smart System, the components of the drive are optimally linked. The display, control unit, various batteries and motors allow you to customize your riding experience with the Bosch Flow app. With over-the-air- updates, you are always up to date.
Enviolo TR
The Enviolo stepless system takes cycling to a new level. With the twist grip, the cadence can be continuously adjusted. You can easily shift while stopped, and while pedalling. This offers a much lower cost of ownership compared to a conventional drivetrain and your chain will last much longer and require less maintenance. There are no adjustments required on the Enviolo.
Gates Carbon Belt
The Gates Carbon Belt will last signicantly longer than a chain and requires no maintenance. Combined with the Enviolo CVT, you won't have to worry about cleaning and oiling your chain, adjusting gears, getting grease on your pants or replacing a rusty chain.
SCHWALBE JOHNNY WATTS 60-584
Excellent choice for SUV bikes. Johnny Watts combines 60mm width smooth running on hard surfaces with long durability and puncture protection, like no other profile. Off-road instilling confidence, while on pavement rolling whisper-quiet. Versatile, deep tread for a wide range of uses from asphalt to off-road. Blocks with large contact areas for excellent, low-vibration rolling characteristics and high durability. Even, good-natured cornering behavior on hard surfaces.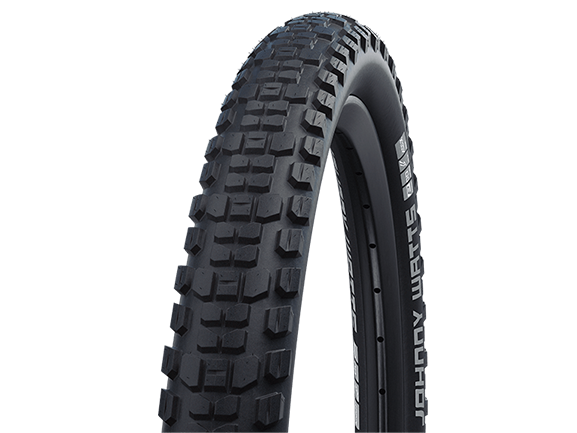 BUSCH & MÜLLER TOPLIGHT LINE BREX
More safety and better visibility in road traffic: The Busch & Müller Toplight Line Brex uses a gyroscope sensor to determine the braking process and displays this brightly to the rear.
BUSCH & MÜLLER IQ-XE 150 LUX
The IQ-X from Busch + Müller. Its newly developed light technology makes it possible for the first time to reach the 150 lux mark with an e-bike headlight - and with a very wide, broad and homogeneous large-area illumination of the road. For all those who are on the road with the bike in any wind and weather, and in any season. The HighEnd technology is joined by design in the IQ-X: The housing, which also serves as a cooling system, is made of high-quality aluminum.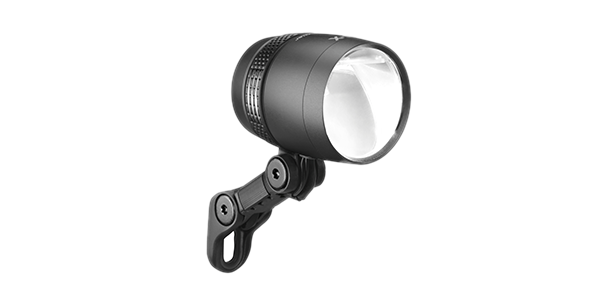 SHIMANO DISC MT200
This disc brake impresses with solid workmanship and high-quality materials. It benefits from the technical expertise of Shimano. The One-Way-Bleeding bleeding system allows easy maintenance, the grip width of 75 mm is also suitable for smaller hands. Its versatile design suits the numerous bike types and is always a good and inexpensive alternative.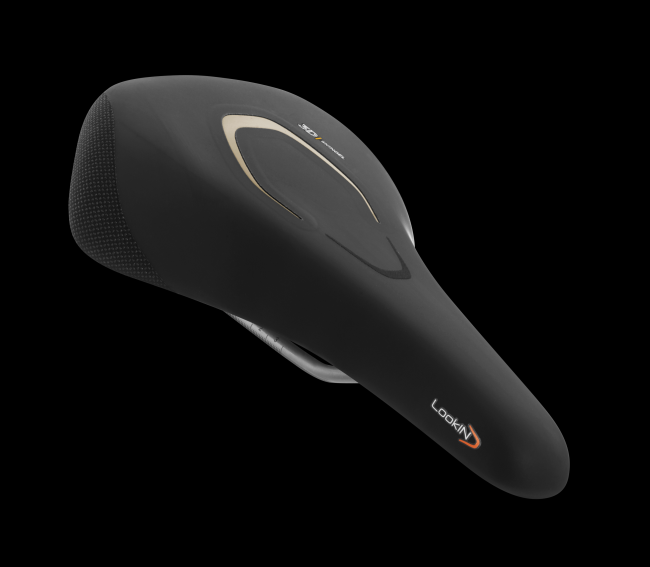 SR LOOKIN MODERATE TREKKING
The Lookin Moderate allows insights into the saddle interior, where you can see the Royalgel technology. The waterproof saddle with Cool Cover provides maximum comfort, especially in the case of strong and unexpected shocks, the material reduces the pressure peaks by up to 40%.
ERGOTEC GLIDE
The Ergotec Glide offers a hardness adjustment as well as adjustable side play. This makes for a comfortable ride. The steel spring suspension supports body weight from 70 up to 120 kg.

TREKKING TOWN
The Trekking Town handlebar offers very good all-round properties, and its ergonomic bend and slight rise make it an ideal fit for trekking and touring bikes that can also be used for everyday use.

ERGOTEC OCTOPUS 50 ADJUSTABLE STEM
The Octopus is generally more upright due to the increase in height. The angle adjustment makes it very variable and ensures a moderate to upright sitting position.
What is Eco-Grey?
Velo de Ville does their own powder-coating in Muenster, Germany, to offer you a huge range of colors. However, this step of the process always produces powder residues. These were no longer usable and were therefore thrown away, until an employee asked himself what color would be obtained if one recycled the remnants of a week's production, and thus all the different colors, and powdered a bike with it. This is how our new "Eco grey" was born. Because the paint residues result in a beautiful, shimmering gray tone. Of course, this shade can always look a little different, depending on which colors were powdered in a given week and how often. Thus, not only the bike, but also the color is a truly unique! A real eye-catcher, which incidentally makes your bike a bit more sustainable.
Bosch Smart System Details
The new Bosch Performance Line CX Smart System motor offers 85Nm of torque but is almost silent. The drive unit supports you powerfully but naturally – making being active fun. Stay in the flow and enjoy the ride to the fullest thanks to special riding modes like Auto mode.
Smart and powerful for the uphill flow
The Performance Line CX is a powerful, dynamic drive for intuitive handling and a unique riding sensation. It goes to the limit with you – for even more riding enjoyment on technically demanding terrain. In the smart system the drive unit is fully connected with the other components of your eBike. With the eBike Flow app you can use digital features such as Activity Tracking and eBike Lock and keep your eBike up to date in future.
Over-the-air updates
The Performance Line CX in the smart system is fully connected, so it stays up to date after purchase.
Powerful 85 Nm
The maximum torque of 85 Nm has a clear effect on your riding behavior.
Custom riding modes
You can customise the riding modes in the eBike Flow app
New Tour+ riding mode
The new Auto mode reacts to a decrease in speed, due e.g. to climbs and sudden headwinds, and compensates with the appropriate support.
Your smart display for sporty rides
Kiox 300 is the display for the smart system and the intelligent, robust companion for sporty rides. It can be operated intuitively via the LED Remote or the Mini Remote, is compact and offers a splash-proof and dust-proof color display that's easy to read. Fully networked in the smart system, it continuously receives new functions through the eBike Flow app.
Your fitness data
All your ride and fitness data – altitude, slope, power, cadence and calorie display – is available at a glance with Kiox 300.
Ergonomic operation
Operate Kiox 300 with the LED Remote or the minimalist Mini Remote.
Helpful support
Activate the smart Walk Assist including Hill Hold – Kiox 300 gives you helpful instructions.
Constant new features
Your smart system eBike will continuously be getting new features over-the-air.
SmartPhone Grip: Your smartphone on the handlebar
Simply turn your smartphone into an eBike display: Attach the SmartphoneGrip to the handlebar, insert your smartphone, and open the eBike Flow app. While your smartphone is wirelessly charging via the SmartphoneGrip, the eBike Flow app reliably navigates you to your destination. It shows you all the important ride data – from speed and eBike battery status to arrival time.
At a glance
Ride data via the Flow app
The Ride screen shows your speed, the charge level of the eBike battery, and the remaining range.
Ergonomic control
Operate the eBike Flow app comfortably via the LED Remote or Mini Remote, while both hands remain on the handlebar.
Secure
On asphalt roads or paved paths, SmartphoneGrip holds your smartphone securely on the handlebar.
Full smartphone rechargeable battery
With the SmartphoneGrip you charge your smartphone as you ride – either wirelessly or wired.
SEB 990 Geometry:
45 cm:
50 cm:
55 cm:
Specifications
Specifications
| | |
| --- | --- |
| Brand | Velo de Ville |
| Motor Manufacturer | Bosch |
| Motor Model | Performance Line CX (Smart System) |
| Battery Size | 625Wh |
Reviews
Tags
Not What You Are Looking For? View other products in this category: